5th June, 2018
Geometry Exam 20180530
4th June, 2018
13th May, 2018
Water Day Posters
11th May, 2018
Areas and Perimeters
26th, November 2017
Arithmetic and Geometric Sequencies (Text problems)
I) Arithmetic Sequencies
(Solved problems)
II) Geometric Sequencies
(Solved Problems)
III) Both arithmetic and geometric sequencies problems (
short answers
)
19th, November 2017
Classic problems text book
14th, November 2017
10th, November 2017
Solved problems about movement
9th, November 2017
Solved

p

roblems with mixes (Spanish)
8th, November 2017
Answers to problems about proportional distribution and mixtures
"Click" here
6th, November 2017
Exercises at page 46 (Short answers)
"Click" here" to get the complete solutions (Spanish)
Answers to Units 1 and 2 exam. "Click" here
16

th, October 2017
Revising powers:
Solved Exercises
Go further with powers:
"Click" here...
14th, October 2017
Powers: Exercises, page 36. Get the Answer Key
9th, October 2017
Scientific notation:

Video introduction
More videos about this topic..
"click" here
7th, October 2017
Exercises pages 28-29:
Answer Key
5th, October 2017
Fractions: Short exam
(answers)
Would you like to practise with powers?
Just do it!
4th, October 2017
Answer Key: "click" here...
17th, September 2017
Improve your knowledge about fractions
This is the correct order of operations (don't forget it!)
Combined operations (Interactive):
"Click" here
Combined operations (Video)
15th, September 2017
Maths Vocabulary Crossword (I)
PDF version
Welcome to our class!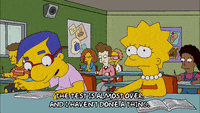 First of all, I would like you to read carefully the following document. It contains
some accurate instructions which will help you succeed in improving your math skills
and passing your exams, too...
This page will be developed progressively...